The History Quill Book Club is a book discovery service that advertises historical fiction books and related products to readers. This advertising consists of paid promotions and affiliate links, as well as our own products. As an Amazon Associate, we earn from qualifying purchases.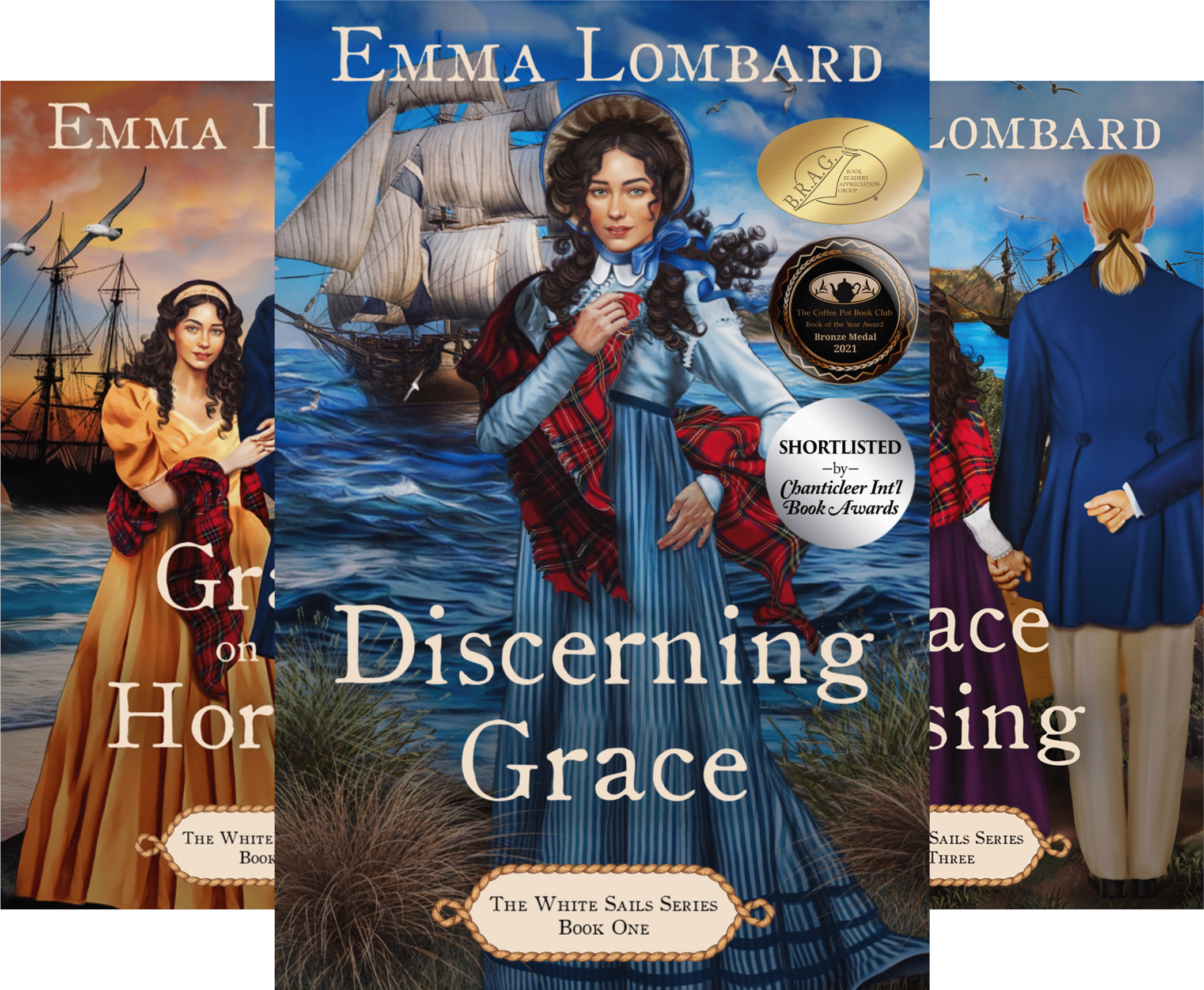 Category: Action/adventure, Romance

Three book series
Rollicking romantic adventures of an independent young woman whose feminine lens blows the ordered patriarchal decks of 19th century tall ships to smithereens. Touted by readers as being like if Bridgerton and Pirates of the Caribbean had a love child. The White Sails Series promises adventures on the high seas, bursting with action, suspense, and a dash of romance.
DISCERNING GRACE (Book 1)
London Town, 1826. Wilful Grace Baxter, will not marry old Lord Silverton with his salivary incontinence and dead-mouse stink. Refusing this fate, she resolves to stow away. Heading to the docks, disguised as a lad to ease her escape, she encounters smooth-talking naval recruiter, Gilly, who lures her aboard HMS Discerning with promises of freedom and exploration in South America.
When Grace's big mouth lands her bare-bottomed over a cannon for insubordination, her identity is exposed. She must now win over the crew she betrayed with her secret.
GRACE ON THE HORIZON (Book 2)
Grace and Seamus, united by their past experiences, are adrift on a raft of shame in the sea of 1830s London society. Grace's desperation to leave London forces Seamus to accept a dubious commission on the private explorer, Clover.
With the expedition financed by Colonel Hamilton and his private backers, Seamus is tasked with mapping a round-the-world voyage. But Colonel Hamilton has an additional package that requires delivering—Father Babcock—a priest wanted for murder.
Seamus hides Babcock's identity from Grace but the journey aboard the Clover is far from smooth sailing, and Grace suspects a saboteur. She must learn to forgive her husband's well-intentioned duplicity and determine who wishes them harm—because now she also has her unborn child to protect.
GRACE ARISING (Book 3)
Having survived unimaginable tragedy together, Grace and Seamus Fitzwilliam plan a fresh start aboard their new ship.
Lucius Chittenden, the new first mate, comes highly-recommended, and with the return of the trusted crew, the journey promises smooth sailing. While Chittenden's demand for expedience guarantees blistering speeds, it comes at a cost to the men's morale, and sets Seamus and Grace at loggerheads. Seamus believes the officer pragmatic, Grace believes him cruel. When Chittenden's cavalier attitude results in him shooting Seamus, Grace has Chittenden chained to the hold. With Seamus gravely injured, she assumes command of the Elias, taking responsibility for seeing her crew and family to safety—but will she make it to New Holland in time to save Seamus's life?