The History Quill Book Club is a book discovery service that advertises historical fiction books and related products to readers. This advertising consists of paid promotions and affiliate links, as well as our own products. As an Amazon Associate, we earn from qualifying purchases.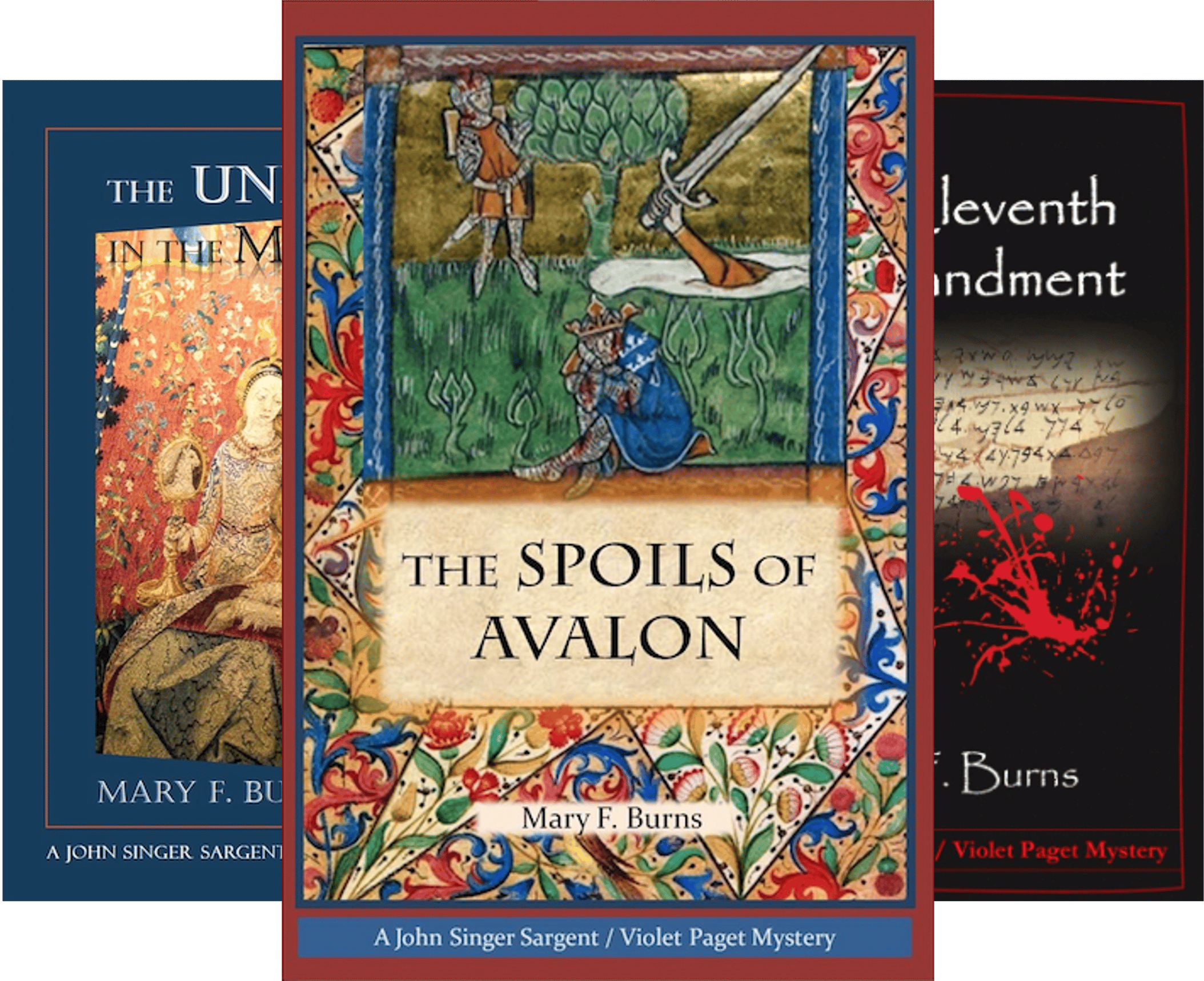 The John Singer Sargent/Violet Paget Mysteries
Genre: Historical fiction

Four book series
Real-life friends–brilliant, brittle Violet Paget and talented, genial portrait painter John Sargent–make a delightful and witty detecting team. These dual-time mysteries, with Violet as first-person narrator, are set in the later Victorian Age and always connect to a previous time where the heart of the mystery lies: English medieval abbeys, Venetian palazzos, French chateaux and Egyptian desert caves.
A new and fun twist on the Sherlock/Watson team, with Violet Paget as the "Sherlock" and John Sargent as the genial "Watson." Their gifts and insights as writer and artist (respectively) provide a fascinating look into their bohemian milieu of late 19th century England and Europe–along with famous friends Henry James, Oscar Wilde, the pre-Raphaelites, the Impressionist artists and more. The series begins with the duo just turning twenty-one (born the same year) and continues as they make their way in their respective fields, becoming both famous and infamous!
The Spoils of Avalon: The death of a humble clergyman in 1877 leads Violet and John into a medieval world of saints and kings, including the legendary Arthur, as they follow a trail of relics and antiquities lost since the destruction of Glastonbury Abbey in 1539.
The Love for Three Oranges: John and Violet are afloat in murder in the fabled City of Venice at the time of the Winter Solstice, where secrets and long-held grudges surface at Ca' Favretto, an recently renovated ancient palazzo on the Grand Canal. But will the ghosts of the past allow the new inhabitants to live in peace?
The Unicorn in the Mirror: It's Paris in the Spring of 1881–John's portraits are garnering high praise at the Salon, and Violet is on her way to a literary rendezvous in London. But their lives are interrupted by the dramatic murder of a friend, and the theft of a priceless work of art, at the Musée de Cluny. The most famous medieval tapestry may hold the clue to the crime.
The Eleventh Commandment: John and Violet face their most perplexing case yet, as they become embroiled in investigating the tragic death of one Moses Shapira in 1884. The noted antiquarian had offered an ancient manuscript to the British Museum–an "original" version of the Book of Deuteronomy that contained not ten but eleven commandments! After it was declared a fraud, Shapira fled London in disgrace, only to be found six months later in a shabby hotel in Rotterdam, a bullet through his head. But was it suicide, or murder? Based on a true story.