The History Quill Book Club is a book discovery service that advertises historical fiction books and related products to readers. This advertising consists of paid promotions and affiliate links, as well as our own products. As an Amazon Associate, we earn from qualifying purchases.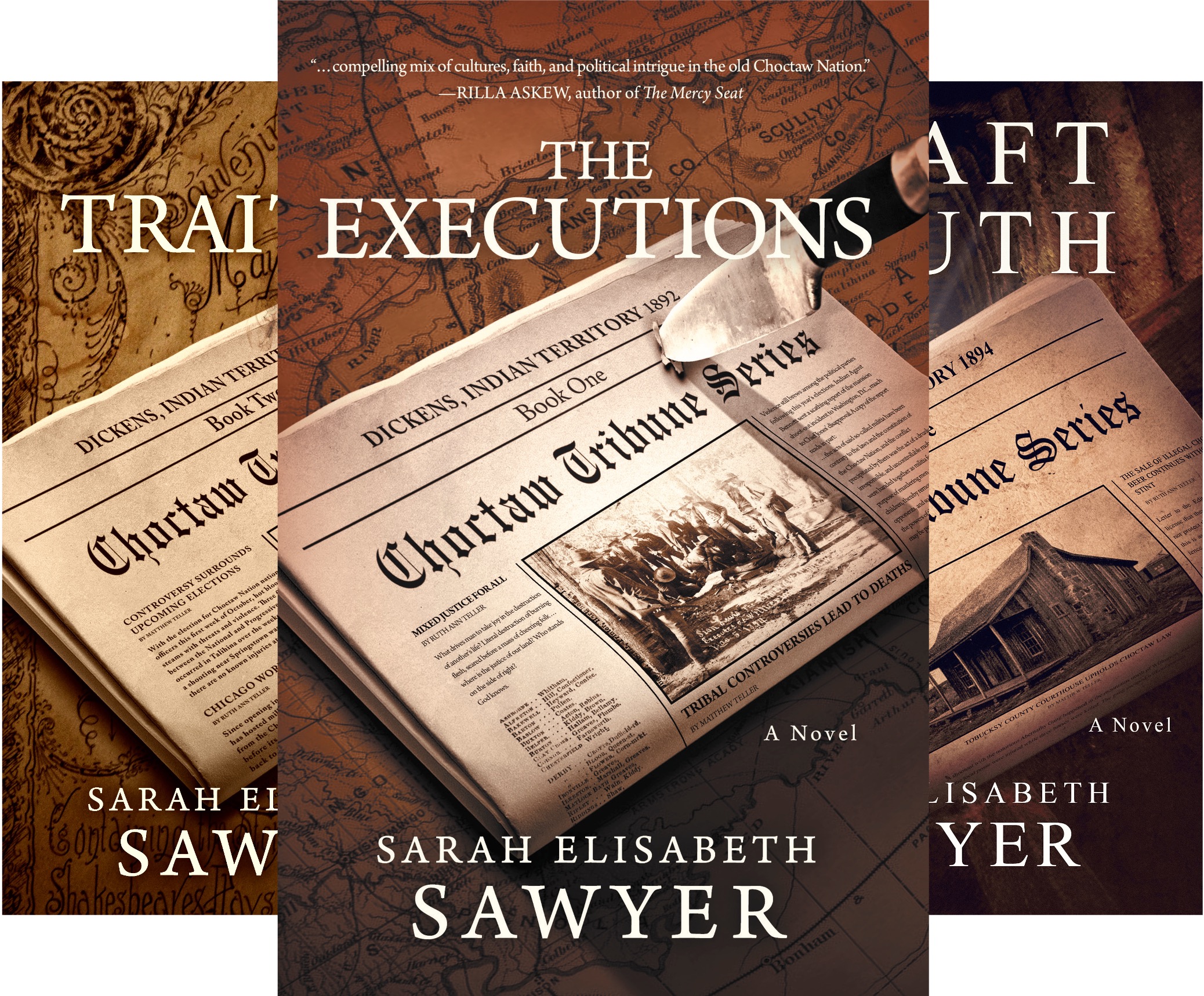 The Choctaw Tribune Series
Genre: Historical fiction, Thriller
Four book series
Penned by a tribal member of the Choctaw Nation of Oklahoma, this series explores racial, political, spiritual, and social issues in the old Choctaw Nation—and beyond. "Sarah Elisabeth Sawyer has become a distinguished voice for Native American stories…she captured the essence of our nation's complex history while offering important lessons and renewed hope." (Julie Cantrell, NYT and USA TODAY bestselling author)
The Choctaw Tribune series lets you explore the old Choctaw Nation with Matthew and Ruth Ann Teller, a brother and sister pair who own a newspaper called the Choctaw Tribune. They're in the midst of shootouts and tribal upheavals with the coming Dawes Commission in the 1890s. These changes in Indian Territory threaten everything they've known and force them to decide if they are going to take a stand for truth, even in the face of death.
The Executions (Book 1)
A war brews in the old Choctaw Nation. Eighteen-year-old Ruth Ann Teller's mixed blood family owns a newspaper, the Choctaw Tribune, infamous for its dedication to unbiased truth, but there is danger for a female reporter on all fronts…
Traitors (Book 2)
There's a traitor in the Choctaw Nation. When heated words turn to hot lead, Ruth Ann Teller fears losing her brother, who uses his newspaper, the Choctaw Tribune, to uncover truth. But she must find courage to face the dangers, even alone.
Shaft of Truth (Book 3)
On a mission of justice, Matthew Teller leaves the Choctaw Tribune for his sister to operate and plunges into the dangers of coal mines and outlaw gangs. But the Tellers are a Choctaw family that fights for one another, and for truth.
Sovereign Justice (Book 4)
When Ruth Ann Teller learns the shocking truth her brother Matthew brings back from the coal mines in Choctaw Nation, she is devastated beyond words. Determined to piece her family back together, Ruth Ann resolves to find and hire the best lawyer in Indian Territory. But the best lawyer happens to be the Teller family's opposition: Tecumseh Shoemaker, who is determined to bring justice by pitting the family against one another.
"Outstanding research and superb writing that accurately depicts a tough and critical time of the Choctaw nation and its people. Author Sarah Elisabeth has an old soul in a young lady, a powerful combination that clearly displays her love and passion for the Choctaw ways." (Gary Batton, Chief of the Choctaw Nation of Oklahoma)