The History Quill Book Club is a book discovery service that advertises historical fiction books and related products to readers. This advertising consists of paid promotions and affiliate links, as well as our own products. As an Amazon Associate, we earn from qualifying purchases.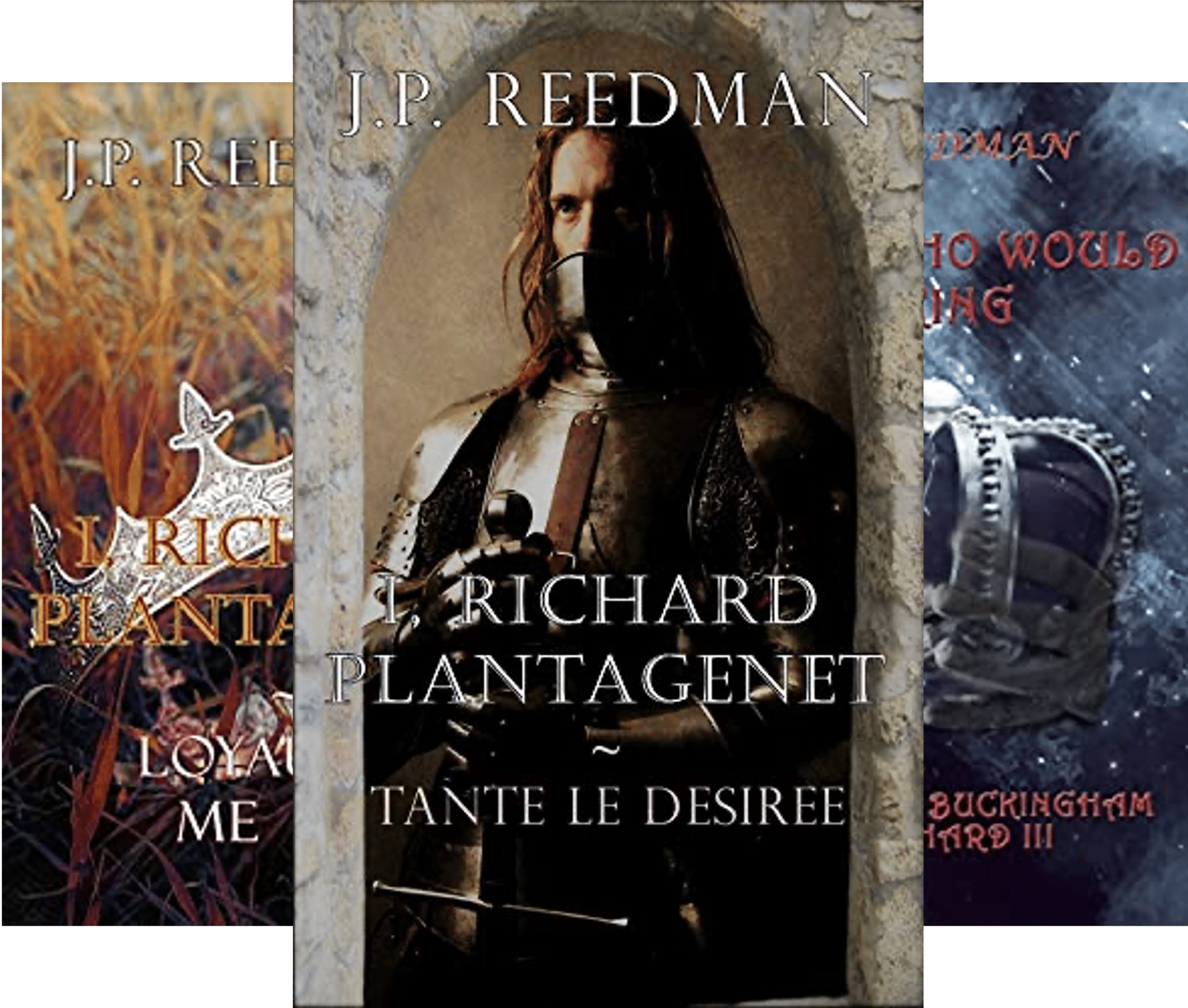 Category: Action/adventure

Three book series
Richard III in his own words, from an eighteen year old fighting his first battle at the Battle of Barnet to the final moments of Bosworth Field – and also the tale of Richard's friend turned bitter enemy, the pompous Henry Stafford, Duke of Buckingham. The Wars of the Roses as never before told – bloody, bawdy and even humorous.
I, Richard Plantagenet: Book 1, Tante Le Desiree
1471 : Richard of Gloucester is eighteen and entering battle for the first time, fighting for his brother Edward's crown at the battles of Barnet and Tewkesbury. Afterwards, with the House of York victorious, Richard wishes to marry Anne Neville, the Kingmaker's daughter, but his jealous brother George hides her in a London tavern… although in the end he gets the girl-and her lands! As Lord of the North, with Middleham castle as his main seat, Richard endeavours to be York's 'especial good lord,' and Edward's right-hand man.
I, Richard Plantagenet: Book 2: Loyaulte Me Lie.
1483. Edward IV is dead. The Woodvilles have the Great Seal—and the treasury.
In the north Richard receives word of his brother's unexpected death from Lord Hastings, who advises him to get to London and take possession of the new young King.
Riding into Northampton, Anthony Woodville, guardian of Edward V, is implicated in a plot to ambush Richard upon the road. He is arrested and Edward V taken into care by Gloucester and the flamboyant and persuasive Duke of Buckingham.
Once they reach London, Buckingham glibly suggests that the young King be sent to the Tower of London 'for his own safety.' Plans for the Coronation progress as expected—and then Bishop Stillington comes to Richard with a shocking revelation.
I, Richard Plantagenet: Book 3, A Man Who Would be King.
November 2 1483. As Henry Stafford, Duke of Buckingham, stands on the scaffold in Salisbury, he reflects on his life during the turbulent Wars of the Roses.
After the death of his grandfather, Henry is sent to King Edward IV's court and placed into the household of Queen Elizabeth Woodville, where he is forced, aged ten, to marry one of her sisters, causing resentment that lasts a lifetime.
Throughout Henry's youth , he sporadically comes into contact with the King's brother, Richard. Upon Edward's death, they form an alliance which sees the two Dukes secure young Edward V and thwart the Woodvilles, who do not wish for Richard to become Lord Protector.
But when Bishop Stillington reveals a secret and Edward IV's children are declared bastards, Henry has other ideas for Richard and himself. Especially himself.
How far will a man go to win a crown? Betrayal, rebellion…murder?
—
Called a 'new Ricardian classic', I, Richard Plantagenet is both bloody and bawdy; the story of Richard III and his fellows retold in first person for the first time in full-length novels. Tragedy and comedy collide. A different Richard than any you have read before— warrior, scoliosis sufferer, loving father, loyal husband, and unexpected King —with a sense of humour!